Description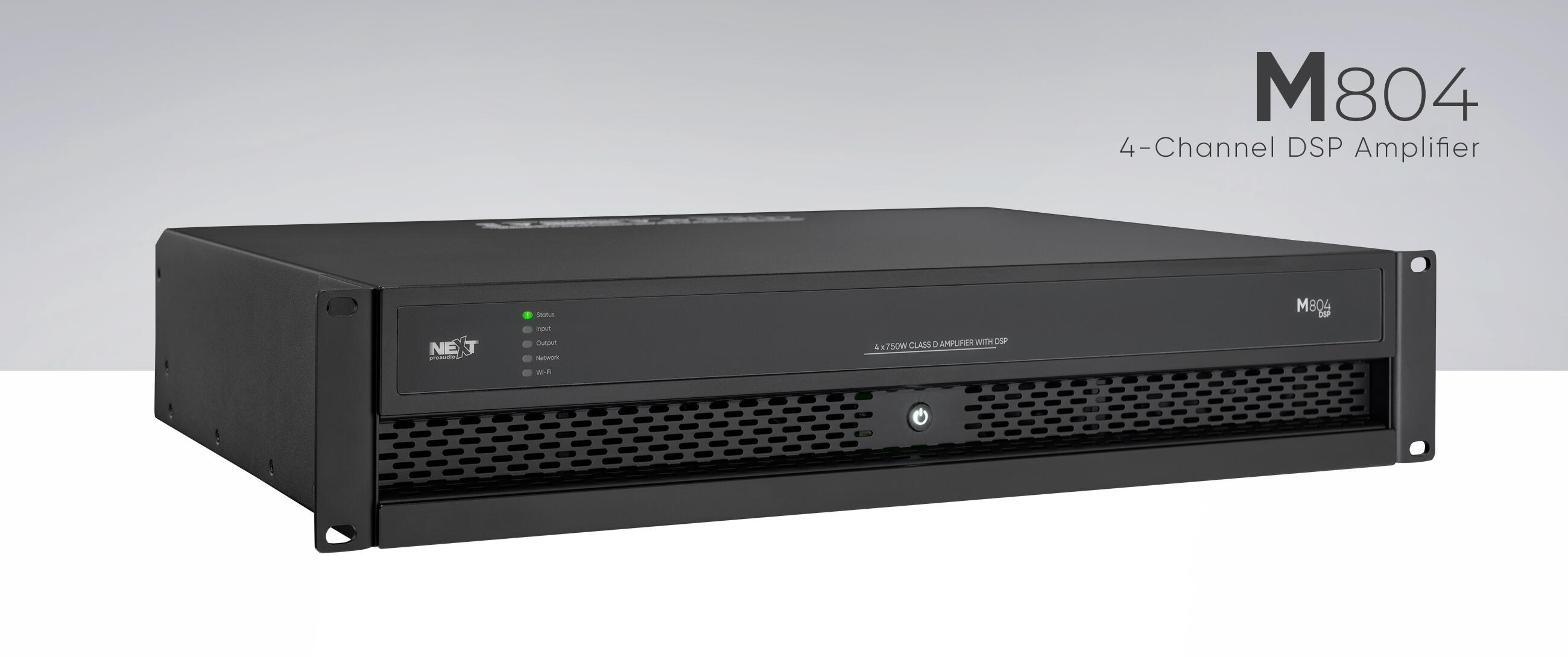 INTEGRATED WEB INTERFACE
The M804DSP can be accessed anytime, anywhere through Wi-Fi via a built-in Wireless-Access-Point (WAP) or through ethernet for simple connection easy configuration, controlling and powering any speaker system, creating the most impressive multi-zone sound system in minutes. The easy-to-use web-based interface allows remote control of all DSP functions as well as monitoring of all amplifier vital functions from any PC, tablet, or smartphone, regardless of operating system. No software to install (it's built into the M804DSP). Simply connect via the Ethernet port or the built-in Wi-Fi, and you're ready to go.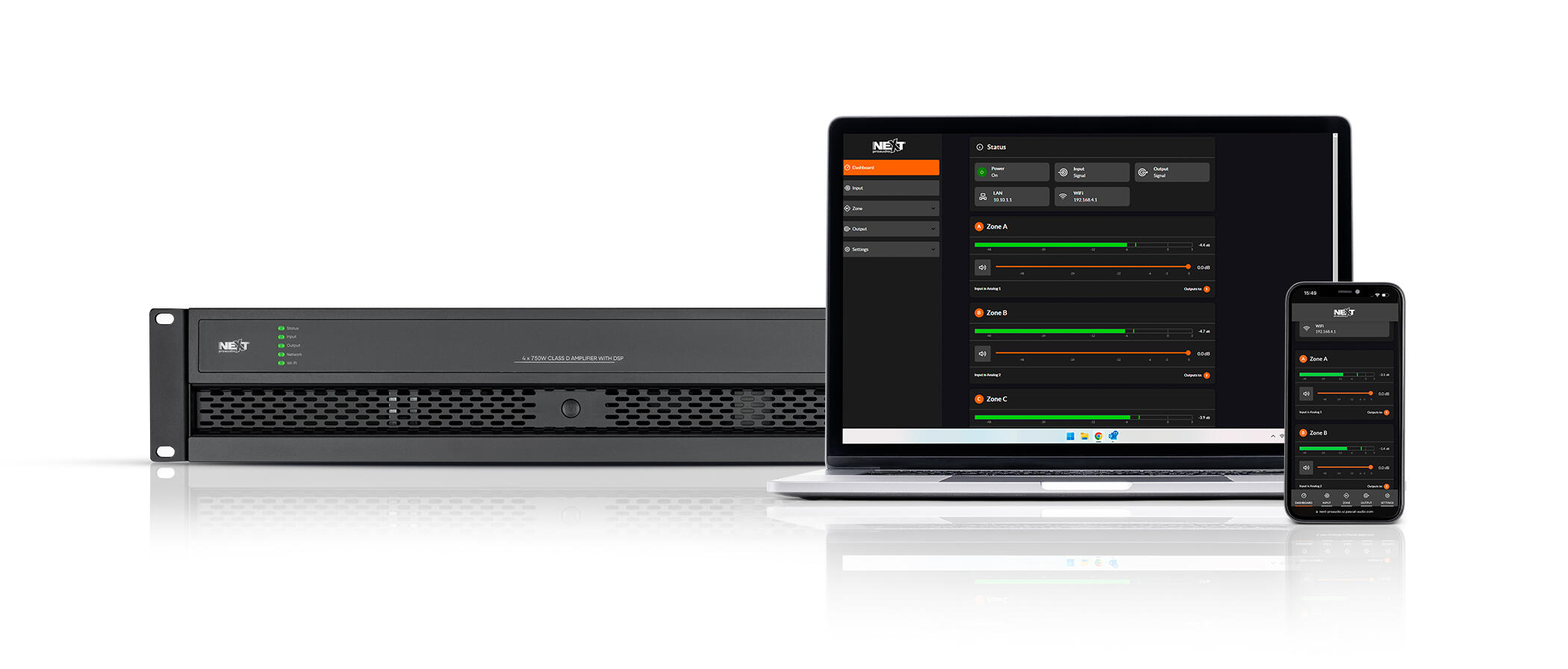 DSP PROCESSING
The integrated web interface controls a powerful signal processing engine extending the level of functionality. The state-of-the-art full matrix Digital Signal Processing (DSP) can be configured to suit a wide range of tasks, without the need for additional equipment.
From processing input sources, managing up to 4 zones, correcting up to 4 independent rooms, to fine-tuning 4 speaker outputs, all the powerful state-of -the-art processing tools you need are there.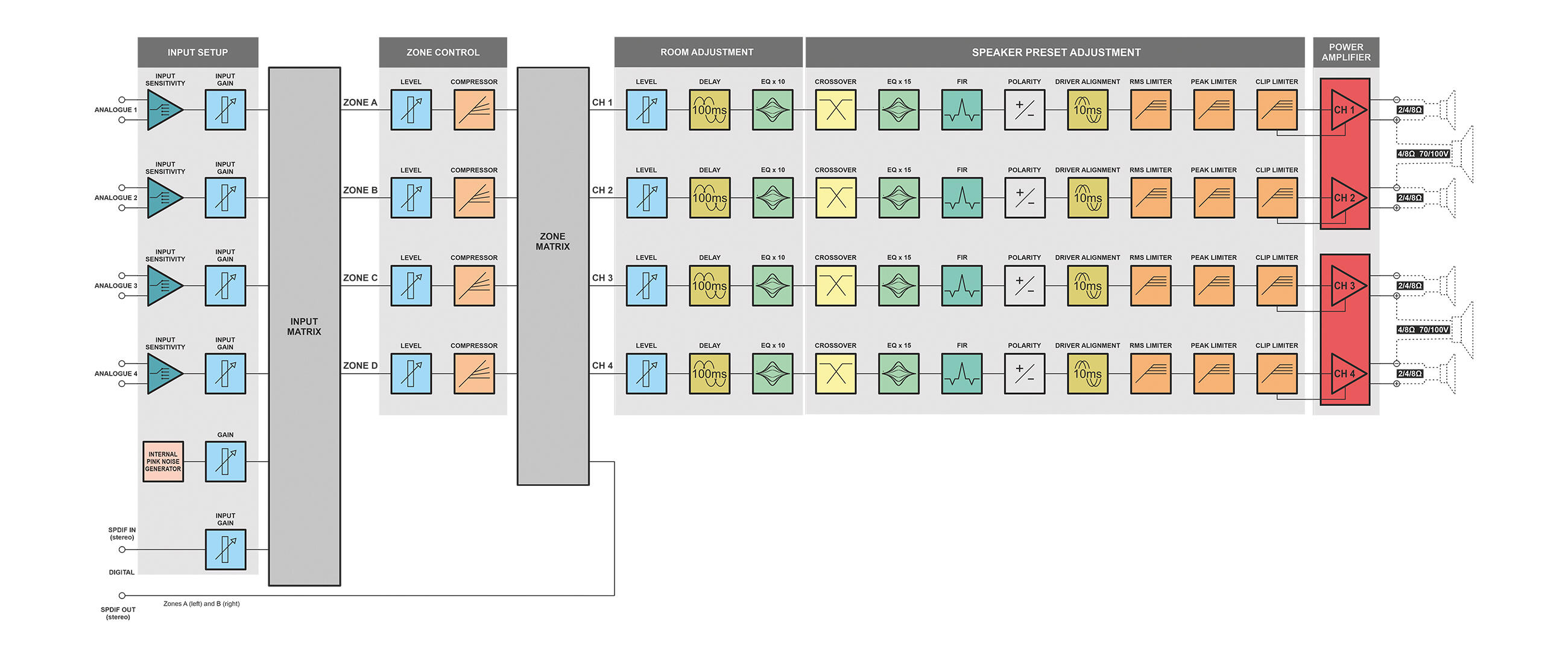 OUTPUTS
Software-selectable multi-mode operation with switchable Normal Low Z (2Ω to16Ω), Bridge Low Z (4Ω to 8Ω) or Bridge Hi Z (70V/100V) allows you to mix and match speaker types as needed. Power Sharing technology distributes dynamically the available power between each amplifier channel pair, so that it can be used where it is needed the most, maximizing the efficiency and the dynamic of the system.
DIGITAL
The SPDIF Digital I/O can connect to other compatible equipment or bridge two M804DSP amplifiers to digitally expand the system.
GPIO
Five programmable GPIO pins are provided as additional control lines. These pins can be programmed to remotely control the volume levels for each Zone by means of external remote potentiometers. Power On/Off, Standby and Mute are also remotely controllable via GPIO.

RECOMMENDED APPLICATIONS:
Night Clubs, Conference Rooms, Retail Stores, Hotel Lobbies, Inside Displays & Kiosks, Bars and Restaurants, Trade Show Exhibits, Auditoriums, Museums, Theatres, Fitness and Leisure centers, Houses of worship
TECHNICAL SPECIFICATIONS
Product Type
Class D Amplifier with DSP
Frequency Response
20Hz – 20kHz (+0 / -0.5dB)
Amplifier Technology
UMAC Class D – Full Bandwidth PWM Modulator With Ultra-Low Distortion
Number of Amplifier Channels
4 Channels Low Impedance (LoZ) / 2 Channels High Impedance (HiZ)
Amplifier Power – Stereo 8Ω
4 x 400W
Amplifier Power – Stereo 4Ω
4 x 750W
Amplifier Power – Stereo 2Ω
4 x 750W
Amplifier Power – Bridge 8Ω
2 x 1500W
Amplifier Power – Bridge 4Ω
2 x 1500W
Amplifier Power – 100V
2 x 1500W
Amplifier Power – 70V
2 x 1200W
Speaker Output
2Ω – 16Ω | 100V | 70V
Zones Output
4-Zones Output
THD+N
<0.05% (20Hz-20kHz, 8Ω load, 3dB below rated power)
SNR (Signal to Noise Ratio)
>108dB (A-weighted, 20Hz-20kHz, 8Ω load)
Output Voltage
85Vp / 170Vpp (unloaded) // Bridged 170Vp / 340Vpp (unloaded)
DSP Technology
Ultimate DSP with WI-FI and Ethernet Connection
DSP Adjustable Parameters
Filters: PEQ, FIR, hi/lo-shelving, all-pass, band-pass, hi/lo-pass | Limiters: RMS Voltage, Peak Voltage | GPIO Functions | Routing
DSP Presets
Save and Load Individual Presets and Preset Libraries
Delay Adjustment
100ms (34.3m) per Output
Control Type
Controlled Via Webpage – Compatible with Desktop, Tablet and Mobile Phone (Wireless or Cable 1 x RJ45)
Wireless Connection System
Works as a WI-FI Access Point (WAP) or WI-FI Client
Audio Signal Inputs
4 x Analog Unbalanced Inputs | 4 x Analog Balanced Inputs | Stereo S/PDIF
Input Connectors
4 x RCA | 2 x 6-Pole 3.5mm Phoenix Type | 1 x RCA | 8 x GPIO
Audio Signal Outputs
Stereo S/PDIF
Output Connectors
1 x RCA | 8 x GPIO
Speakers Output Connectors
2 x 4-Pole 5mm Phoenix Type
Protections
Short Circuit, DC, Undervoltage, Temperature and Overload Protection
Operating Temperature Range
0ºC – 40ºC
Cooling Type
Speed Controlled Fan
Power Supply
UREC Universal Mains Switch Mode Power Supply (SMPS) with Power Factor Correction (PFC) and Standby Converter
Power Input
AC 100V – 240V 50Hz/60Hz
Mains Connector
Standard IEC socket
Special Features
GPIO Functions: Standby, Mute, Volume Control, Trigger IN, Trigger OUT
Dimensions (WxHxD)
88 x 440 x 332 mm (3.5 x 17.3 x 13.1 in)
Net Weight
7.4kg (16.3 lbs)
Shipping Weight
8.5kg (18.7 lbs)
Accessories
2 x Rack Ears, 4 x Adhesive Feet (included)